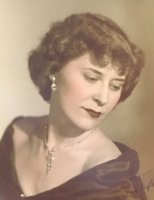 Carol M. Shobe
Carol M. Shobe, 88, of North Utica passed away on Friday, July 26, 2019.
Carol was born in Oriskany on May 6, 1931, a daughter of Charles H. and Mary Louise (Schreppel) Paul, Sr. She was raised and educated locally graduating from Utica Free Academy in 1949. In Utica, on May 29, 1954, Carol was united in marriage to Rembert Allen Shobe, a blessed union of 18 years until his passing on January 23, 1973. For many years she was employed at St. Elizabeth's Hospital.
Carol was masterful at knitting and crocheting and was a skilled seamstress. Through the years she delighted family and friends in her creations of blankets and clothing.
Carol is survived by her children, Jeffrey Shobe, of Whitesboro, Kenneth Shobe and wife, Shari, of Douglasville, GA and Cynthia Shobe, of Clark Mills; three grandchildren, Kelsi Shobe, Noah Shobe and Stephen Ruffing and wife, , Sara; two great grandchildren, Madison and Jaxon Ruffing; a sister-in-law, Lee Paul, of N. Utica and many nieces and nephews. She was predeceased by a brother, Charles Paul Jr. and a brother and sister-in-law, John (Jack) and Dorothy Paul.
Mrs. Shobe's funeral service will be held on Sunday, July 28, 2019 at 5 pm at the Heintz Funeral Home, 408 Herkimer Rd., N. Utica. Calling hours are prior to the service from 3-5. Burial will be in Cedar Hill Cemetery, West Virginia.
Those so wishing may make donations to Stevens-Swan Humane Society in Carol's memory.