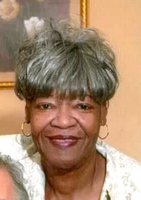 Pernese Giehl
Mrs. Pernese Giehl, 85, a resident of the St. Luke's Home in New Hartford, formerly of Utica, passed away Monday, July 29, 2019 at Faxton-St. Luke's Healthcare.
Pernese was born on November 3, 1933, in Summerton, SC, the daughter of Willie and Arlethia (Jones) McBride and received her education in Utica schools. On July 25, 1960, Pernese was united in marriage with John A. Giehl, Sr., a devoted union of 49 years until John's death in 2009. For many years, Pernese was employed with Utica Community Action and the Municipal Housing Authority. She was a member of St. Matthews Temple C.O.G.I.C and was an avid bowler and bingo player. Pernese always went out of her way to put others before herself and opened her heart and home to everyone.
Mrs. Giehl is survived by one daughter, Sherri Giehl LaSalle and her husband Rick of Utica; one son, John A. Giehl, Jr. and his wife Jackie of Utica; Cherished Grandchildren, Elan Scott, Johnna Giehl and Nick Schipano, Adreana Giehl and Damian Dantzler, Anthony, Stephanie, Vanessa, Haven, Haleigha, Jheremiah and Brooke (Brick); special nieces, Tarita Mills, Michelle Sanchious and Anisah and Taryn Lacy; nephews, Forman McBride, Jr. Charles McBride and CJ as well as three special people in Pernese's life, Kevin Scott, Josh Pearson and Kevin Scott, Jr. and several additional nieces, nphews and cousins. She was predeceased by her brother, Forman (Bubbles) McBride.
Visitation for family and friends is Saturday, August 3, 2019 from 10:00 a.m. until 12:00 noon at the Heintz Funeral Home, 1517 Whitesboro St., Utica, followed by a funeral service at 12:00 noon at the conclusion of Visitation. Her burial will follow in New Forest Cemetery in Utica.
Mrs. Giehl's family extends a special thank you to an Angel, Korinn Chaffee, RN, who came and made Pernese comfortable and at peace. Also, thank you to Jennifer Brooks, ER nurse at St. Luke's, for the wonderful care you provided to Pernese.