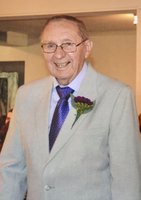 Chester C. Moskal, Sr.
Chester Carl Moskal, Sr., 90, passed away unexpectedly surrounded by his loving family on August 6, 2019.
Chet was born in Utica, NY, to Walter and Carolyn Moskal on November 2, 1928. He married his sweetheart of over 63 years, Eleanore Kosowski on September 10, 1955.
Chet retired from New York State after many years of dedicated service. He was well known for being a master upholsterer and for his expert craftsmanship. He enjoyed many rounds of golf, the casino and spending time with his family.
He is survived by his wife Eleanore, his sons and daughters-in-law, Chester Jr. (Cheri) Moskal, Peter (Joanne) Moskal, his daughters and sons-in-law, Michele (Dave) Gydesen, Susanne (Bill) Cloute, Juliann (John) Ashcroft, and Mary Beth (Frank) Cappelli, as well as 12 grandchildren and two great granddaughters. He is also survived by his good friends Wally Marcinkiewicz and Don Van Waes, and many dear family members and friends.
He is preceded in death by his siblings Edward Moskal, Barney Moskal, Helen Czepiel, Mary Ward and Susan Burke.
The funeral Mass will be held at The Church of the Sacred Heart and Saint Mary Our Lady of Czestochowa, 201 Main Street, New York Mills, on Tuesday, August 13th at 10:30am. There will be no calling hours. The family will greet guests at the end of Mass.
In lieu of flowers, donations may be made to Hospice & Palliative Care, Inc., 4277 Middle Settlement Road, New Hartford, NY 13413, in Chet's name.
The family wishes to thank Dr. Christopher Clark for his attentive care and friendship. Chet will be greatly missed.