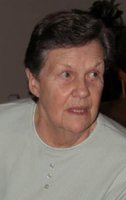 Barbara J. Mousaw
Mrs. Barbara J. Mousaw, 88, of Schuyler, passed away on Friday, August 9, 2019 at her home with her loving family by her side.
Barbara was born in Pennsylvania on June 2, 1931, the daughter of Glenn and Edna (Robinson) Rosenbarker. As a young child, her family moved to Potsdam, NY, where Barbara received her education, graduating from Potsdam High School. On June 2, 1947, Barbara was united in marriage with Richard W. Mousaw, a devoted union of 66 years until Richard's death in 2013. Barbara was an avid reader and in her younger years, enjoyed camping. She was a loving and devoted wife, mother and grandmother, who dedicated her life to her family. She was of the Catholic faith.
Mrs. Mousaw is survived by two daughters and one son-in-law, Toni and Bob Derouin of Watertown and Katryn Mousaw of Schuyler; two sons, David Mousaw of Raleigh, NC and Thomas Mousaw of Charlotte, NC; seven cherished grandchildren, Rob Derouin and his wife Jen, Sina Eassa and her husband Dustin, Erica Derouin, Patrick Mousaw, Dylan Mousaw, Sarah Venn and her husband Tad, and Amy Miller and her husband Clint and nine adored great grandchildren, Andrew, Kortni, Austin, Clare, Caroline, Mary Kate, Audrey, Jack and Everett. She was predeceased by the Rosenbarker family.
In keeping with Barbara's wishes there are no calling hours or services.
Arrangements have been entrusted to Heintz Funeral Service, Inc., N. Utica.