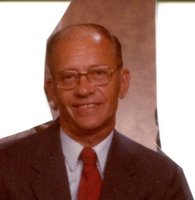 Donald J. Stern
1
Donald J. Stern, 92, of Clinton passed away on Tuesday, September 3, 2019 at the Presbyterian Home in New Hartford.
Donald was born in Utica on June 5, 1927, a son of the late Alois and Marguerite (Madden) Stern. He attended Utica Free Academy and left to serve in the Navy. After the Navy he attended St. Francis Seminary in Staten Island, NY. Returning to Utica he was employed with T.J. Griffiths Printing Co. for three years and then was employed at the Utica Daily Press and Observer Dispatch for 38 years. After retirement he worked for P.J. Green Advertising. On September 11, 1954 Donald married Beatrice Hahn. She passed away in 1966. On November 30, 1991 he married Joanne Johnson.
Donald is survived by his wife, Joanne, a daughter, Anne M. Marleau, of Prospect, NY, a son, Terrence M. Stern, of Mohawk, NY, a daughter-in-law, Nora Stern, of FL, a stepdaughter, Periann Burgamy, of Clinton, four grandchildren, Brittany Brealt (Danny) and Lauren, Christopher and Sean Marleau, a brother, John Stern and wife, Dolores, of PA and a sister, Mary Price, of NJ.
Donald was predeceased by a son, Christopher G. Stern, a brother, Thomas Stern and a sister, Marguerite Huysman.
Mr. Stern's funeral will be held on Friday, September 6, 2019 at 10:00 at Historic Old St. John's Church, Utica. Burial will be in Mt. Olivet Cemetery, Whitesboro. There are no calling hours. The family will receive guests from 9:00 – 10:00 prior to the mass. Those so wishing may make donations to Historic Old St. John's Church in Donald's memory.
Arrangements are by the Heintz Funeral Service Inc.
On line messages of sympathy may be made at Heintzfuneralservice.net.
Remember me, O Lord, not according to Your wrath, but according to Your mercy. This befits You, O Lord, not owing to my merit but to Your kindness.-St. Augustine.