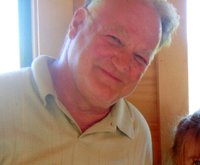 Charles "Chuck" McRorie
1
Charles "Chuck" McRorie, 78, of North Utica passed away unexpectedly on Tuesday, September 3, 2019 at Faxton-St. Luke's Healthcare.
Chuck was born in Albany, NY on July 17, 1941, a son of the late Milton and Evelyn (Harter) McRorie. He was raised and educated in Utica and was a graduate of Utica Free Academy. On January 18, 1969 Chuck was united in marriage to Jacqueline Williams, a blessed union of 50 years until her death in 2018. For many years he was employed with Bendix Corp. later Lucas Aerospace until his retirement. After his retirement he was employed with Independent Courier.
Chuck always enjoyed fishing and camping and was a NASCAR fan, but what he enjoyed most was just visiting with people. Chuck missed traveling with his wife and spending winters in Florida.
Chuck is survived by his two children, Vanessa Houck and Kevin McRorie, both of Utica, his three grandchildren who lovingly called him "Happy", Jillian Houck, Rowan Houck and Wesley Houck, a son-in-law, Joel Houck, Newport, NY, two sisters-in-law, Carol Williams and Nancy Kistner, both of Utica, a niece and nephews, Tracy Williams, Michael Williams, Timothy Welch and David Williams and his canine companion, Finn.
Mr. McRorie's funeral will be held on Monday, September 9, 2019 at 10:00 at St. Peter's Church, N. Utica. Burial will be in St. Joseph's Cemetery. Calling hours at the Heintz Funeral Home, 408 Herkimer Rd., N. Utica are Sunday from 4-6. Those so wishing may make donations to the Stevens-Swan Humane Society in Chuck's memory.