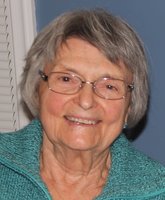 Ann Casella Shaffer
1
Ann Shaffer, 80, of Utica passed away on Thursday, October 3, 2019, at the Siegenthaler Center.
Ann was born in Brooklyn, NY on December 20, 1938, to Vincent and Filomena Papa.
Ann was predeceased by her husband, Jospeh Casella, II, and is survived by her five children, Joseph Casella, III (Connie Didomenico), of SC, Vincent Casella (Joan), of KS, James Casella (Maria), of NY, Thomas Casella (Tamara), of New Hartford and Katherine Hamill (Jeff), of CO, and her sister, Rose Papa, of Endwell, NY. She is also survived by eight grandchildren and her feline companion, Sunshine.
Services will be held at the Heintz Funeral Home, 408 Herkimer Road, Utica , NY 13502 on Saturday, October 12, 2019 at 4:00 PM.