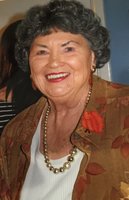 Mary Lou (Wagner) DeBlois
Mary Lou (Wagner) DeBlois, 89, of Baldwinsville, passed away on October 25, 2019 in Syracuse.
Mary Lou was born in Utica to John "Jack" and Caroline "Carrie" (Pole) Wagner. She graduated from Utica Catholic Academy. She married her husband Joe on October 21, 1950 and they shared a great life until his passing on October 29, 1999. Mary Lou attended Sacred Heart Church and later St. John's Church in Utica. She moved to Baldwinsville in 2010 to be closer to her children where she lived in a condo she referred to as the "Taj Mahal". She spent many an hour at the Canton Woods Senior Center playing a mean game of bridge, wrapping half her lunch in a napkin to stuff in her purse and taking the leftover bread which she threw out for the birds when she got home.
Mary Lou is preceded in death by her parents and her brothers, John and Bob. She was mourning the recent passing of her dear childhood friend, Edith Landers. They were close friends for 80 years. She also recently lost another dear friend of her and Joe's, Dick Kehrli. Dick was always there for Mary Lou from the day Joe passed.
Mary Lou is survived by her children Donna Walker, Joe and Anne DeBlois, Tim and Karen DeBlois, Tom and Sharon DeBlois and Nancy Joyce; her beloved grandchildren, Tim (Mary) DeBlois, Ashley (Nate) Zawislak, Michael (Megan) DeBlois, Jayme (Justin) Wisneski , Katie (Jeff) Brown, Evan Joyce, Tyler DeBlois, Aubree DeBlois, Matt DeBlois and Niki DeBlois; great-grandchildren, Timmy and Teddy DeBlois, Reece and Flynn Zawislak, Emily and Alison DeBlois, Charlie and Lola Wisneski and Danny and Maddy Brown. She is also survived by her brother Dick Wagner and her other dear childhood friend, Dolores Fahey.
A Mass of Christian Burial will be held at 10:00 am on Wednesday, October 30, 2019 at Historic Old St. John's Church, 520 John St., Utica. She will be laid to rest next to her husband in Mount Olivet Cemetery in Whitesboro.
Donations in her memory may be made to: Canton Woods Senior Center, 76 Canton Street, Baldwinsville, New York 13027.
Arrangements are by Heintz Funeral Services, Inc., Utica.