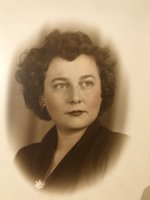 Jane L. Lynch
1
Jane Lois Lynch passed away on Sunday, November 3rd, 2019 at the age of 99. She was born in Utica on May 22, 1920 to Ida and Carl Bergner.
Jane married Edward Lynch on November 23, 1940. Ed and Jane enjoyed 62 years of marriage before Ed passed away in 2002.
In the 1950s Jane began studying the Bible with Jehovah's Witnesses. She remained a faithful student of God's word and a member of the Paris Hill Congregation for the rest of her life. Her study of the Bible is one reason Jane was a caring, generous person. She was proud of her children-Elaine, Eddie, Jaron and Dan. She loved her grandchildren, great-grandchildren and even great-great grandchildren. She loved to give gifts and they were always wrapped with a bow and a card….oftentimes the card contained a special poem written by Jane. She remembered every anniversary and brought you a rum cake! Sunday afternoons would often find Ed and Jane buying a Boston cream pie to take to friends. They loved to play cards and visit.
More importantly, Jane generously shared what she learned from the Bible. She was famous for sending cards or writing letters of encouragement…100s and 100s of cards! And it was typical for Jane to spend many hours in the ministry, easily placing over 100 Watchtower and Awake! Magazines in a month. As she walked up Genesee Street paying her bills she would speak with clerks and bank tellers or people she met while waiting in a check out line. Jane loved people and after a friendly chat she knew exactly why that person needed to hear about God's Kingdom.
Jane is survived by a daughter, Elaine Engel and husband, John, of Remsen, three sons, Edward Lynch, of Utica, Daniel Lynch, of Utica and Jaron Lynch and wife, Jean, of Vernon and several grandchildren, great grandchildren and great great grandchildren. She is predeceased by a brother, Irving Bergner.
The family would like to thank the staff at Waterville Residential Care where Jane spent the last year and a half. During that time, she was able to attend Bible study sessions with the brothers and sisters from the Paris Hill Congregation of Jehovah's Witnesses. We are grateful for our friends and everything they have done for Jane.
Calling hours for Mrs. Lynch will be held on Thursday, November 7, 2019, from 5-7:30 at the Heintz Funeral Home, 1517 Whitesboro St., Utica. A memorial service will be held on Friday, November 8, 2019 at 4:00 pm at the Kingdom Hall of Jehovah Witnesses, 585 Trenton Rd., Deerfield. Burial in Crown Hill Memorial Park will take place at the convenience of the family.
Those so wishing may make donations to the Kingdom Hall of Jehovah Witnesses in Jane's memory.