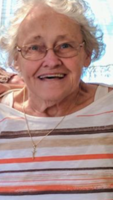 Sharon Elizabeth Coyne Smith
Sharon Elizabeth Coyne Smith, 72, passed from this life peacefully at home on Thursday, November 7, 2019 surrounded by her loving family and Hospice and Palliative Care.
Sharon was born on November 11, 1946, the daughter of the late George A. and Agnes E. (Brady) Gossin. Raised in the Catholic faith, she attended St. Mary's School in Utica and was a graduate of Utica Free Academy, Class of 1964. She later attended MVCC, where in 1998, received her degree in nursing. Sharon was employed with St. Elizabeth Hospital for 25 years, and also volunteered at the gift shop as well as volunteering at the Abraham House thrift store. She was a member of Auxiliary # 7393. Sharon shared a blessed union of marriage with Charles Francis Coyne and raised four loving sons.
Mrs. Smith is survived by two sons, Steven Coyne of Herkimer and Brian (Adriana) Coyne of Westmoreland; six cherished grandchildren, Nichole, Samantha, Chelsea, Kaleigh, Matthew and Sabrina; one sister, Mary Ann Burke of Utica; one brother and two sisters-in-law, Myles and Dina Campbell of Summerfield, FL and Helen Campbell of Utica as well as five great grandchildren and many nieces and nephews. She was predeceased by her twin sons, Charles in 2001 and Raymond in 2019; two brothers, Henry Campbell and Robert Campbell and one sister and brother-in-law, Barbara (Campbell) and Gordon Burritt.
Mrs. Smith's funeral will be held on Monday, November 11, 2019 at 9:45 a.m. at the Heintz Funeral Home, 408 Herkimer Rd., N. Utica and 10:30 at St. Anthony & St. Agnes Church, 422 Tilden Ave., Utica, where her Mass of Christian burial will be celebrated. Her Rite of Committal and burial will be in Calvary Cemetery in Utica. Calling hours for family and friends are Sunday from 4:00-6:00 p.m. Those wishing to make a donation in Sharon's memory, please consider Hospice and Palliative Care, Inc. or Abraham House. Envelopes will be available at the funeral home.
Mrs. Smith's family extends their heartfelt gratitude to Sharon's cousin, Steve Gossin for the loving care and guidance you provide to Sharon over the past several years. Your kindness will not be forgotten.