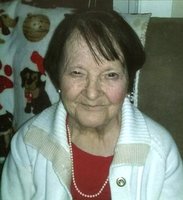 Joan LaGrand Rockefeller
Mrs. Joan LaGrand Rockefeller, 90, a resident of the Eastern Star Home in Oriskany, formerly of Whitesboro St., Yorkville, passed away on Friday, November 15, 2019 at the nursing home.
Joan was born in Utica, on November 25, 1928, then daughter of Louis and Dolores (Verschneider) LaGrand. She was raised and educated locally and was a graduate of Whitesboro High School. At one time, Joan was married to Charles Rockefeller. For many years, she was employed with the Presbyterian Home in New Hartford. Joan enjoyed reading, sitting on her outdoor swing with her magazines, coffee with her friends and "Social Club" and singing to the Sound of Music cassette and the oldies. She also enjoyed politics and volunteered at the voting booths. Joan loved when her children were all together and family picnics. She was a parishioner of The Church of The Sacred Heart and St. Mary of Lady of Czestochowa in NY Mills.
Mrs. Rockefeller is survived by six daughters, Karen Rockefeller of Sarasota, FL, Diane and Patrick Alfano of Oriskany, Jill and Randy Miller of Ilion, Bonnie Rockefeller of Houston, TX, Pam and Eddy Mendoza of Punta Gorda, FL, and Kristen and Sean of Yorkville; one son, Gary C. Rockefeller of Clinton; 12 cherished Grandchildren, Kari, Leeann, Derek, Shaun, Nick, Steve, Alex, Zack, Sabastian, Brieanna, Justin and Jake; 4 adored great grandchildren, Austin, Evan, Ethan and Magnolia; one sister, Judy Pender of New Hartford and one sister-in-law, Barb LaGrand of FL, as well as several nieces and nephews. She was predeceased by two sisters, her twin sister, Jean Zawada and Debra LaGrand and two brothers, Bob LaGrand and Louis LaGrand.
Mrs. Rockefeller's funeral will be held, on Wednesday, November 20, 2019 at 10:30 a.m. at Sacred Heart and St. Mary's Church, NY Mills, where her Mass of Christian burial will be celebrated. The family will greet visitors at the conclusion of the funeral Mass. Her Rite of Committal and burial will be in Mount Olivet Cemetery in Whitesboro. In lieu of flowers, please consider making a donation to the Eastern Star Home, 8290 Route 69, Oriskany, NY 13424.
Mrs. Rockefeller's family extends their heartfelt gratitude to the staff of the Eastern Star Home, especially, Amy, Deb (Bootsie), Carol and Christine for the loving care you provided to our mom.
Arrangements have been entrusted to Heintz Funeral Service, Inc., Utica