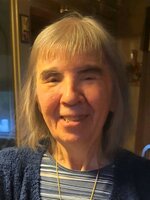 Barbara M. Cavoly
Mrs. Barbara M. Cavoly, 74, of Marcy, NY, passed away on Monday, March 28, 2022 after a courageous battle with cancer, with her loving family by her side.
Barbara was born in Utica, on February 7, 1948, the daughter of John F. and Caroline (Mancuso) Cittadino. She was raised and educated in Utica, was a graduate of Utica Free Academy and later earned her Bachelor's degree from Utica College. Barbara shared a loving marriage of 48 years, with John L. Cavoly, Jr., until his death in 2021. For many years, Barbara was employed with St. Elizabeth Hospital School of Nursing Library, then, prior to her retirement, she was an administrative assistant in the mental health unit at the Oneida County Jail. Barbara enjoyed crossword puzzles, cooking, artistic painting and watching General Hospital with Michele. Her greatest joy was spending time with her beloved family, who were the light of her life.
Mrs. Cavoly is survived by one sister, Johann Cittadino; one brother-in-law and two sisters-in-law, Donald and Chrishelle Cavoly and Michele Cittadino; her cherished nieces and nephews, Kelly-Ann DiNigro, Anthony and Amanda DiNigro, Zak and Andrea Cavoly, Maverick Cavoly, Walker Cavoly, Susan Penner, John W. Cittadino, and Jackson DiNigro, who made her smile through her hardest days. Also surviving are several additional nieces, nephews and great nieces and nephews. She was predeceased by her parents, John and Caroline; beloved husband John; brother, Robert Cittadino and sister-in-law, Janine (Cavoly) Campola.
Mrs. Cavoly's family extends their heartfelt gratitude to Hospice and Palliative Care, Inc., especially Barbara's nurses, Irene and Angela, for the wonderful care and compassion you provided. Your kindness will not be forgotten.
Those wishing to make a donation in Barbara's memory, please consdier Hospice & Palliative Care, Inc., 4277 Middle Settlement Rd., New Hartford, NY 13413
In keeping with Barbara's wishes, there will be no visitation or services.