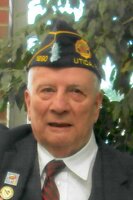 Peter Cardone, Jr.
Mr. Peter Cardone, Jr., 81, of Schuyler, passed away on Wednesday, March 30, 2022 at Faxton-St. Luke's Healthcare in New Hartford, with his loving family by his side.
Peter was born in Utica, on March 15, 1941, the son of Pietro and Rose (Bello) Cardone. He was raised locally and was a graduate of Proctor High School. Peter proudly served in the US Army from 1963 until his honorable discharge in 1965. At one time, Peter was employed in the Radio Receiver division of General Electric Company in Utica, and for many years, until his retirement, as an engineer with CSX Railroad. Peter was an avid baseball enthusiast who enjoyed attending his nephews little league games and who was also very active in American Legion baseball. He was also an avid NY Yankees and NY Giants fan. Peter was a member of American Legion Fort Schuyler Post 1290 in Utica and a devout parishioner and dedicated volunteer at St. Peter's Church in N. Utica.
Mr. Cardone is survived by two brothers, Angelo Cardone and Roger Cardone both of N. Utica; six beloved nieces and nephews, Rosemarie (Robert) Hughes, Denise (Christopher) Casab, his Godson, Michael (Renee) Cardone, David (Laurie) Cardone, Carolyn Cardone and Roseanne (Paul) Madison, as well as several cherished great nieces and nephews and two adored great great nephews. He was predeceased by his parents, Pietro and Rose and two sisters-in-law, Rose Cardone and Carol Cardone.
Mr. Cardone's funeral will be held on Monday, April 4, 2022 at 10;00 a.m. at St. Peter's Church, 422 Coventry Ave., N. Utica, where his Mass of Christian burial will be celebrated. He will be laid to rest in St. Agnes Cemetery in Utica. Visitation for family and friends is Sunday from 5:00-8:00 p.m. at the Heintz Funeral Home, 408 Herkimer Rd., N. Utica. Memorial contributions in Peter's name, may be made to American Legion Fort Schuyler Post 1290, 404 Kossuth Ave., Utica, NY 13501.