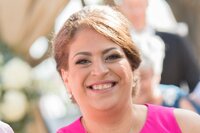 Michelle A. Wehby-Baker
Mrs. Michelle A. Wehby-Baker, 57, of Utica, passed away unexpectedly on Monday, April 18, 2022.
Michelle was born in New Hartford, on March 29, 1965, the daughter of Abraham and Pam (Migliaccio) Wehby. She was raised in Utica, was a graduate of John F. Kennedy High School and earned her Associates degree from Herkimer County Community College. On July 26, 2003, Michelle was united in marriage with Raymond Baker, Jr. For many years, Michelle was co-owner and operator of the Hartford Queen Diner in New Hartford. She enjoyed diamond painting, reading and was an animal lover, especially her dog, Buddy and cats, Peachy, Lucy and Stella. Michelle will most be remembered as a loving wife, mother and grandmother, who dedicated her life to her family and especially her adored grandchildren who were the light of her life. She was of the Catholic faith.
Michelle is survived by her beloved husband, Ray; her loving children, Vincent Lamandia and his wife Katy of FL, Kayla Lamandia and her husband Sean Simcox of Syracuse and Mary Mikhalevich and her husband Ruvim of Utica; her mother, Pam Wehby of Fl; seven cherished grandchildren, Joseph, Fallon, Noah, Andreya, Adalae, Rylan and Koen; her brother, Michael Wehby and his wife Frances of Fl; two nephews, Tyler Wehby and Michael Wehby; her loving cousin and best friend, Renee Geddes; father-in-law, Raymond Baker, Sr. and his wife Dolores; mother-in-law, Brenda Wilson and brother-in-law, Jason Baker; She was predeceased by her father, Abraham.
Visitation for family and friends is Sunday, April 24, 2022 from 2:00-4:00 p.m. at the Heintz Funeral Home, 408 Herkimer Rd., N. Utica, followed by a funeral service at 4:00 p.m. at the conclusion of Visitation. She will be laid to rest in Calvary Cemetery in Utica.