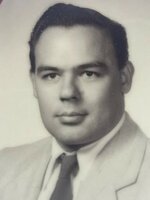 Raymond R. Klein
Mr. Raymond R. Klein, 87, passed away peacefully om Sunday July 31, 2022 in Waterville, NY with the comfort of his loving family by his side.
Ray was born in Utica, on June 14, 1935, the son of Lester W. and Marie (Nolan) Klein. He was raised and educated in Utica, Graduating from T.R. Proctor High School, class of 1955. Ray furthered his education at SUNY Morrisville graduating in 1957, becoming a dedicated watchmaker for more than 60 years, retiring while in his 80's. On May 14, 1960, Ray was united in marriage with the former Joyce Arlene Ottaway. The two shared a loving and devoted union that lasted over 62 years, and resulted in four sons. Ray was dedicated to Little League Baseball for more than 20 years, as a manager and coach. One of his proudest accomplishments was taking his 1969 Cubs team from East Utica and winning the district 10 championship.
Mr. Klein is survived by his loving wife, Joyce; sons and daughters-in-law, Kevin Klein and Linda Riccio of Murrells Inlet, SC, Jennifer Caloia of Morrisville, NY, Scott Klein and Yvonne Ventresca of Syracuse, NY and Craig and Patricia (Leone) Klein of Utica, NY; Cherished grandchildren, Melissa Klein (Brandon), Michelle Huening (Matt), Craig Klein, Patrick Klein and Samantha Leone; great grandchildren, Madison Huening, Logan Meas and Jillian Huening; sister-in-law, Gloria (Belmont) Klein, as well as several nieces, nephews, cousins and his canine companion, Foxy. He was predeceased by his parents, Lester and Marie; son, Christopher J. Klein; brothers, Lester Klein and Lawrence Klein; sister, Patricia Schamerhorn; father-in-law and mother-in-law, Harold and Florentine Ottaway; and sister-in-law, Janet Foster.
Visitation for family and friends is Thursday, August 4, 2022 from 3:00-5:00 p.m. at the Heintz Funeral Home, 408 Herkimer Rd., N. Utica, followed by a funeral service at 5:00 p.m. at the conclusion of visitation. He will be laid to rest in Calvary Cemetery in Utica.
Mr. Klein's family extends their heartfelt gratitude to the staff of Waterville Residential Care Center, especially, Michelle "Cinderella" Stockbridge and Marion Lee for the exceptional care and compassion