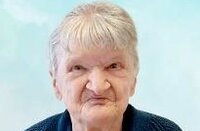 Rosemary Benhoff
Mrs. Rosemary Benhoff, 84, a resident of the Presbyterian Home for Central New York in New Hartford, passed away on Thursday, September 1, 2022 at the nursing home.
Rosemary was born in Rome, NY, on October 15, 1937.
Mrs. Benhoff is survived by three daughters, Vicki Misiaszek and Dan Lape, Charlene Benhoff and John Gaetano and Karen Benhoff; one son, Ric Benhoff and two brothers, Al Piazza and Frank Piazza and his husband Phil, as well as 13 cherished grandchildren, 14 adored great grandchildren and several nieces and nephews. She was predeceased by her husband, Victor Benhoff and daughter, Connie Sue Benhoff.
In keeping with Rosemary's wishes, there is no visitation or service.