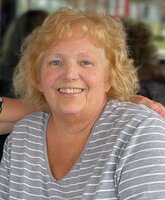 Christine Anne Wiegand
Christine Anne Wiegand, 63, of Utica passed away on Monday, September 26, 2022, at MVHS, St. Luke's campus, New Hartford after a courageous battle with cancer.
She was born on April 28, 1959, the daughter of the late Howard and Rita (Lloyd) Edwards. She was raised and educated in Utica schools and graduated from UFA. On June 17, 1989, she united in marriage to Raymond Wiegand at Blessed Sacrament Church, Utica. Christine had various employment opportunities her last one was working in the medical billing department for the Senior Network Health and VNA at the Center for Rehabilitation and Continuing Care Services (CRCCS).
Christine in her spare time enjoyed sewing and reading. She perfected the art of gift wrapping down to a science. She also was an excellent cook, she prepared many fabulous meals.
She is survived by her husband of 33 years Ray, their son Andrew Wiegand and his girlfriend Shannon McNamara, Oakland, ME., three sisters Joan Cardarelli (Mike), Utica, Linda Colosimo, Whitesboro, Barbara Petronella (Joe), Deerfield, a brother Stephen Edwards (Lisa), NC., two sisters-in-law Anna Rose Wiegand, SC, Teresa Wiegand , Forestport, a brother-in-law Steven Wiegand (Denise), New Hartford, great uncle Richard Freely, Whitesboro, several nieces, nephews, cousins, special friends and co-workers. She is predeceased by her parents Howard and Rita, brother Larry Edwards, mother and father-in-law George and Cecilia (Grabouskas) Wiegand and a special great aunt Priscilla Gray.
Relatives and friends are invited to pay their respects on Sunday, October 2, 2022, from 1-3 PM at Heintz Funeral Service, Inc., 408 Herkimer Road, Utica followed be a prayer service at 3:00 PM. Interment will take place at the convenience of the family.
In Lieu of flowers, please consider a memorial contribution to MVHS Cancer Center, 807 Newell Street, Utica, NY., 13502
Mrs. Wiegand's family extends their heartfelt gratitude to Dr. Butala and Dr. Finocchiaro and their staff for the care and compassion shown to them and to Christine.