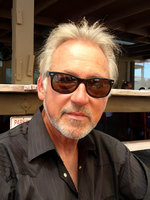 Uwe Steffen
Mr. Uwe Steffen, 69, of Utica, passed away unexpectedly on Monday, December 19, 2022, at St. Elizabeth Medical Center in Utica with his loving family by his side.
Uwe was born in Germany, on July 10, 1953, the son of Eric and Helena Steffen and received his education there. At one time, Uwe was employed with Sears Roback Company in California and later with Home Depot in San Diego, CA. Uwe was a coin and stamp collector, enjoyed traveling, especially to Las Vegas and was a true "Foodie". He was of the Christian faith.
Mr. Steffen is survived by his beloved companion, Janie Smithling of Utica; two cherished children, Sara Jo Steffen of Vista, CA and Karl Steffen of San Marcos, CA; two brothers, Klaus Steffen of FL and Reiner (Nancy) Steffen of Ontario, Canada; his niece and God daughter, Erika Steffen of Ontario Canada and nephew, Jordan Steffen of Ontario, Canada.
In keeping with Uwe's wishes, there will be no visitation of services. Uwe's final gift was to donate his human remains to science for the betterment of medicine.