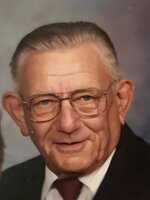 George D. Siegenthaler
Mr. George D. Siegenthaler, 97, of Verona Beach, NY, passed away on Wednesday, January 18, 2023, at the Hospice Siegenthaler Center in New Hartford with his loving family by his side.
George was born in Utica, on November 24, 1925, the son of David and Catherine (Kiefl) Siegenthaler. He was raised and educated in Utica and was a graduate of St. Francis de Sales High School. George proudly served in the US Army during WW II. On June 11, 1949, George was united in marriage with Ann T. Kistner at St. Patrick's Church in Utica, a devoted union of 73 years. At one time, George was employed with Utica Cutlery Company, later as a truck driver with Griffiss Air Force Base in Rome and for many years, with General Electric Company in Utica, retiring in 1985. George enjoyed fishing, boating, snowmobiling and traveling. He was a lifelong member of American Legion Post 1153 in Sylvan Beach, St. Mary's on The Lake Church in Verona Beach, a 4th Degree member of Knight of Columbus, council 189 in Utica, and a former member of the Moose Lodge in Marcy.
Mr. Siegenthaler is survived by his beloved wife, Ann; five daughters and three sons-in-law, Katherine Nisiewicz of Manlius, NY, Eileen and Thomas Julian of Minoa, NY, Mary Ann Valenti and Daniel Wilczek of Utica, Joan Dresser of Utica and June and Paul True of Oriskany, NY; 17 cherished grandchildren, Joseph (Cathy) Nisiewicz, Jr., Tracey (Christopher) Arroyo, Thomas (Amber) Julian, Melissa Julian, Timothy (Sara) Julian, Danielle (Francesco) Riverso, Jason Valenti, Jennifer (Brian Potaczala) Valenti, Jaclyn (Andrew) Nicoletta, David (Deena Inserras) Yeomans, Nicole (Curt Fowler) Yeomans, Vincent Siringo, Ian (Elma Samardzic) Dresser, Michael Pula, Diana Pula, Eric (Whitney) True and Sarah True; sister-in-law, Mary Lou (Patsy) Faragon, as well as 30 great grandchildren and several nieces and nephews. He was predeceased by his brother, Anthony Siegenthaler and son-in-law, Joseph Nisiewicz.
Mr. Siegenthaler's funeral will be held on Saturday, January 28, 2023, at 10:00 a.m. at St. Joseph & St. Patrick Church, 702 Columbia St., Utica, where his Mass of Christian burial will be celebrated. He will be laid to rest in Resurrection Chapel Mausoleum at Holy Trinity Cemetery in Yorkville. Visitation for family and friends is Friday, January 27th from 4:00-6:00 p.m. at Heintz Funeral Home, 1517 Whitesboro St., Utica. Those wishing to make a donation in George's memory, please consider the Hospice Siegenthaler Center, 4277 Middle Settlement Rd., New Hartford, NY 13413. Envelopes will be available at the funeral home.