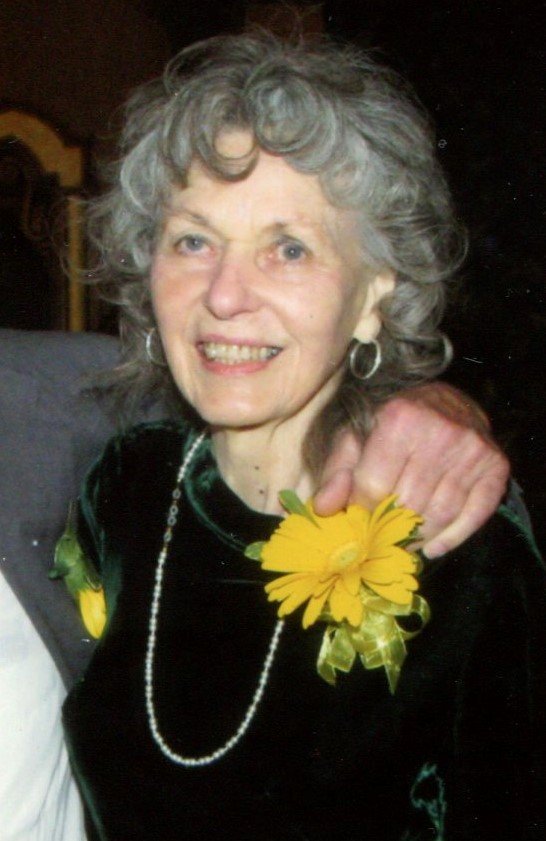 Obituary of Helen M. Nolan
Helen Margaret Sullivan Nolan, 92, was carried peacefully from her earthly home in Deerfield to her eternal home with her Heavenly Father and family on Monday, July 22, 2019, surrounded by her children who loved her dearly. Helen was born in Hartford, Connecticut on April 5, 1927, the daughter of James William Sullivan and Mary Magdalene Houlihan Sullivan. Helen graduated from Hartford Public High School in 1945, then worked as an administrative assistant for the Veteran's Administration in Hartford, Connecticut and Manchester, New Hampshire. On September 16, 1950, Helen married Michael Joseph Nolan at St. Lawrence O'Toole Church, in Hartford, CT.
Helen was a devoted loving wife and mother of eight children, grandmother of thirteen, and great-grandmother of eight. She possessed exceptional beauty, grace and integrity with a radiant smile, gracious, empathetic heart and honest, humble nature. She had a strong courageous spirit and showed heroic resilience during her life with a profound commitment to her Roman Catholic faith and special devotion to the Blessed Mother and St. Marianne Cope. She most loved spending time with all her family, going for long walks with her husband and pets and traveling, especially to the ocean. Helen had an innate love for animals, especially for her devoted dog companions, Toasty and Mikey. She enjoyed the arts, cooking and gardening. Helen was a true Christian gentlewoman and her legacy of commitment to her faith and family will live on for generations.
Helen is survived by her beloved children: daughter Rosemary and her husband Edward Noonan of Utica; son Michael and his wife Elizabeth of Pittsfield, MA; son Patrick and his wife Claudia of Deerfield; son Kevin and his wife Karlene of Salem, NH; son Brian and his wife Jennifer of Wallingford, CT; daughters Maureen and Jennifer of Deerfield; her adored grandchildren: Edward, Michael, Brian and Mary Rose Noonan; Daniel, Kieran, Liam, Sean, Connor, Kelly, Brian, Michael and Kaitlyn Nolan; her treasured great-grandchildren; her dearest friend and sister-in-law Mary Sullivan of Granby, CT; sister-in-law Pauline Nolan of Denver, CO; brother-in-law Edward Slota of East Hartford, CT; and many dearly loved nieces and nephews. In addition to her parents, Helen was predeceased by her most loving husband and forever best friend Michael Joseph Nolan; her beloved son James Bernard Nolan; her adored sister Regina Marie Sullivan; and cherished brother James Joseph Sullivan.
Friends and relatives may attend the viewing on Saturday, July 27, 2019 at 12:30 pm at St. Joseph and St. Patrick Church, 702 Columbia St, Utica, followed by the Mass of Christian Burial at 1:15 pm. Burial will take place at Mt. Olivet Cemetery, Whitesboro.
In lieu of flowers, please consider a donation in Helen's name to Mother Marianne's West Side Kitchen at St. Joseph & St. Patrick Church.
To plant a tree in memory of Helen Nolan, please visit Tribute Store
Calling Hours
12:30 pm - 1:15 pm
Saturday, July 27, 2019
ST. Joseph's & St. Patrick's Church
702 Columbia St.
Utica, New York, United States
Funeral Mass
1:15 pm
Saturday, July 27, 2019
St. Joseph's & St. Patrick's Church
702 Columbia St.
Utica, New York, United States
Share Your Memory of
Helen