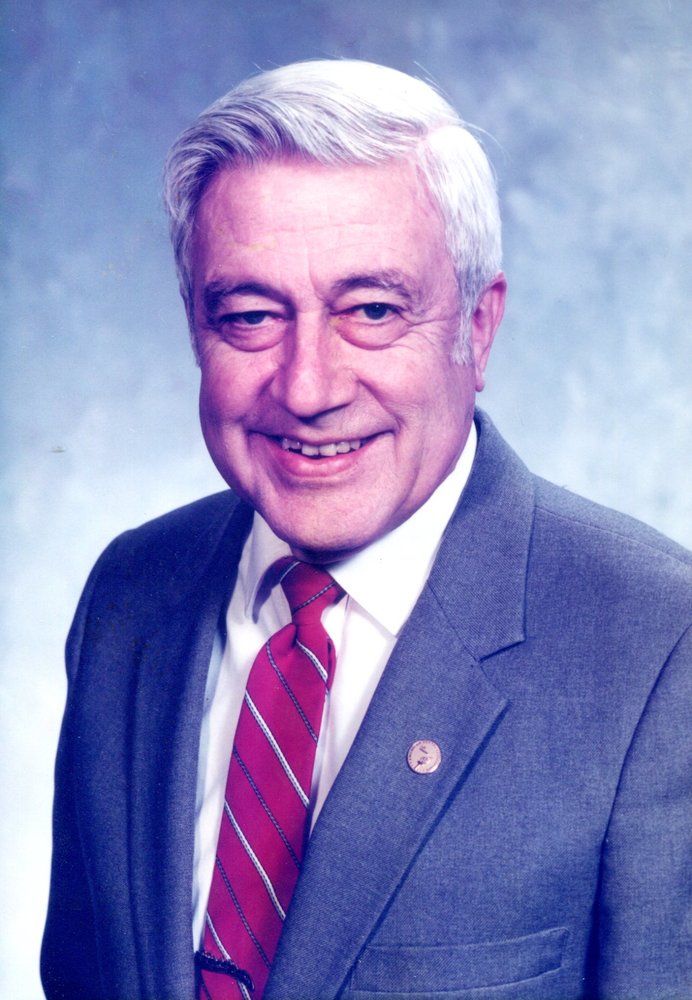 Obituary of Dr. Ira L. Domser
Dr. Ira L. Domser, D.D.S., passed away on Tuesday, Jan. 26, 2021. He was born in Utica on February 19, 1923 the son of Ira F. Domser and Louise (Dunbar) Domser and lived most of his life in Deerfield and Utica, NY. He enjoyed spending his summer with family and friends at his camp on Kayuta Lake in Remsen. Ira married his childhood sweetheart, Esther Wurz, in 1944. They had a blessed union for 63 years. Together they shared their life with their four children, eleven grandchildren, and eight great-grandchildren. After Esther's death, Ira was united in marriage to Elizabeth Bartlett. "Doc" as he was affectionately known, began his dental career in North Utica after graduating from Georgetown University in 1947. His practice was temporarily interrupted when he went to Camp Lejeune, NC to serve his country in the Navy and the Marines. He returned to Utica in 1953 resuming his practice. In 1975, his son, Mark joined the practice working alongside him until Ira retired in 2000. As a dedicated community leader, Ira was involved in many organizations. He was a member of the Knights of Columbus Council #189, the American Legion Post #229, past president and member of the Oneida-Herkimer-County Dental Society, a trustee and lector for St. Peter's Church, and served on the Utica School Board for 14 years. One of Ira's most cherished hobbies included his participation with the Utica Maennerchor Edelweiss Schuhplatters. He and Esther enjoyed many years entertaining others with their German dance group. Ira was happiest when surrounded by family and friends, especially at his camp on Kayuta Lake. He enjoyed playing cards with Lory, Ken, and Joanie, driving his golf cart, giving tours of the woods, teaching anyone who wanted to learn to ski, and in his earlier years riding his "flying saucer". You could never leave his home without hearing one of his funny stories. Jokingly he told me, "I was an avid sportsman, my golf score and my bowling score were the same." He was the last living founding member of the "Kayuta Lake Red and White Club." Ira was a charitable and loving man, beloved by his family and many friends. He is survived by his children; Ira and Pat Domser of Westminster, MD, and their children, Cassandra and Hendrik Lammers and Emma Domser; Dr. Mark and Celia Domser of Trenton , NY and their children, Matthew and Dafne Domser, and Christina and Christopher Gravelding; Michele and Brian Smith of Remsen, NY, and their children, Jason and Shavon Smith, Matthew and Monica Smith, Ira and Katie Smith, and Corey and Jackie Smith; Mary Beth and Tom King of Clinton, NY and their children, Graham King, Ahnna and Zach Telgheder, and Grant and Katelynn King. Also surviving are his sister, Irene Harcaz who he dearly loved and his brother in law and sister in law, Theodore and Sandy Wurz. Ira was predeceased by his wives, Esther Wurz and Elizabeth Bartlett, his infant children, Debra and Matthew, his brother Frank Domser and his sister, Jean Brown. The family would like to thank all of Ira's caregivers over the years and most recently Sunset Rehabilitation Center in Boonville, NY. A private funeral mass of Christian burial was held at St. Peter's Church. Interment followed at Mt. Olivet Cemetery, Whitesboro, NY. Those wishing may make a donation to The Children's Museum of Utica or Notre Dame Elementary School.
To plant a tree in memory of Dr. Ira Domser, please visit Tribute Store
Donations
The Children's Museum of Utica or Notre Dame Elementary School.
Share Your Memory of
Dr. Ira