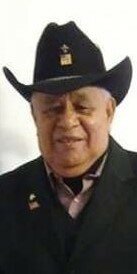 Obituary of Vidal Molina Mercado
Please share a memory of Vidal to include in a keepsake book for family and friends.
Mr. Vidal Molina Mercado, 86, of Utica, passed away peacefully on November 1, 2021, at his home in San Antonio, TX, with his loving family by his side. Vidal was born, on February 14,1935, in Adjuntas, Puerto Rico, the son of Juana and Juan Serafin Molina. He was raised in Puerto Rico and received his education there. Vidal enlisted in the US Army, at age 19 in Ponce, and proudly served 32 years in the Army, Army Reserves and National Guard in Utica. While in the Army Reserves in Puerto Rico, he became a teacher at Vocational High School training students. Vidal worked for several local companies prior to moving to San Antonio. Vidal also worked as a carpenter for many years before retirement. In 1959, Vidal was united in marriage with Juana Moncerrates Huertas and they shared a bless union of 16 years prior to her passing in June 2, 1977. Vidal enjoyed spending time with his family and grandchildren. He was an avid baseball enthusiast and especially loved the NY Yankees. Vidal's renewed faith that he found, transformed his priorities in life. He was a man of faith, had a deep love and pleasure of reading the word of God and listening to Christian music. Vidal was a very special man, who, no matter where he was, made so many friends that loved him dearly. His heart and soul were so pure, that when little kids were around him, they felt loved and safe. Vidal led a long, happy and accomplished life. Vidal was a loving son, brother, father, grandfather, great grandfather, uncle and friend who will be sadly missed by two daughters, a son and their spouses; Ada and Juan Garcia of Texas, Juana and Joel Llanos of Rochester and Vidal Molina Jr. and Amelia Santiago of Puerto Rico; several grandchildren, Ada Luz, Maritza, Selena, Yoanna, Edgar, Joellyse, Damaris, Edgardo, Debbie, Felix, Amelie, Lizma, Nana; twelve great grandkids and his siblings, Dolores, Iris and Miguel. In 1977 Vidal met and shared a 32-year loving relationship with Irene Garcia until her passing in 2009. He not only gained a soulmate, but he also became a stepfather to her 14 children; Zoraida, Jose, Marta, Frank, Juan, Nidia, Miguel, David, Michele, Ollie, Andy, Janie, Stevie and Sammy Garcia. He was preceded in death by siblings Abraham, Jose, Juan, Indalecio, Esperanza, and Elsa. Visitation for family and friends is Friday, November 19, 2021 from 5:00-700 PM at the Heintz Funeral Home, 408 Herkimer Rd., N. Utica, followed by a funeral service at 7:00 p.m. at the conclusion of visitation. He will be laid to rest on Saturday, November 20th at 10:30 a.m. at Calvary Cemetery in Utica.
To send flowers to the family or plant a tree in memory of Vidal Mercado, please visit Tribute Store
Share Your Memory of
Vidal